If you do not see your question here, please contact us, and we will answer your question directly. Thanks!
MEMBERSHIP QUALIFICATIONS
USING YOUR MEMBERSHIP BENEFITS
CLASSES
---
MEMBERSHIP QUALIFICATIONS
Am I a member?
Members have activated their accounts by picking a monthly or yearly budget plan, which can be canceled or reactivated at anytime without any sorts of fees. Being a member means you can access our insider PR Leads (like to Jill's Steals and Deals, Star Magazine's Hot Sheet, MSNBC, and more). You can connect with other members in our forum and private email group. You can promote your business in our Business Directory, Events and Marketplace.

How do I join?
Click here to get started. You'll get instant access to your business benefits.
Can I cancel my membership at any time?
Yes you can (but we'll be sad). If you signed up for the monthly or yearly payment plan, this simply means that you will be billed each month or year. The annual plan offers you the most savings. You may cancel at any time, and you can re-start your membership at any time. Membership is non-refundable and not pro-rated. It is tax deductible. To cancel, email Katie at katie@tinshingle.com.

---
USING YOUR MEMBERSHIP BENEFITS
How do I access my benefits?
You must be logged in to access your benefits. There are two ways to access your benefits:
1. The link to all of your benefit tools is in the upper right hand corner called "My Account Center". Click it, and you will be taken to your account center.
2. There are shortcut links on the right side of your screen. These will always be there, no matter what page you are on. One of those sections look like this:
How do I add links to my personal or company profiles to show where my brand is online?

1.) Click on the PROFILE (add/edit) link in the right side column. These are shortcut links to tools available in your member account.
2.) Fill in the link. Once you're in your personal profile area, scroll down a bit and you'll see a list of text fields. The left column is for the title of your link, and the right field is for the URL of your link. By title we mean what you want to call your link. So for your Pinterest profile, for example, you'd type in "Pinterest" in the left column, and then paste the URL in the right column. The sky is the limit as to how many cleverly named links you add here (well, no spammy links of course...we do monitor to make sure nothing bogus is going on).
It will look like this once you've filled it in (this is a screenshot of Tin Shingle co-founder Katie's personal profile links):
3.) Click Save and you're done!

How do I get my listings featured in the side columns of this website?
What you see featured on the left side column of this website are the most recently added listings in the Marketplace, Events, and Jobs. Yours will be featured there too when you add it to any of these sections.

How do I access my personal profile?
From the right side column, click on "PROFILE add/edit". There, you will be able to switch out your headshot, edit your bio, and add links of where to find you online. The shortcut link looks like this:
How do I add my company profile?
From the right side of the screen, click on "COMPANY add/edit". You will be able to upload your logo, add a description, and links of where to find it online. All of your listings that you post to this website will be connected to your company, and will display on your public company profile page automatically. The shortcut link looks like this:
Why would I upload more than one company?
Do you have a blog? A special product line? You may use the company profiles for very specific items that may be in a different category in the Business Directory than your main company. For example: you may be a yoga instructor who offers classes, and list your business in the Services section under Health. Yet you also sell a DVD, which is a product. You could list your DVD as its own company under Products.
We also know that you may have more than one company, as many entrepreneurs do. We encourage the freedom to work them all. If you don't see a category that fits your business, please email us at info@tinshingle.com so that we may accommodate you. A collection of your company profiles could look like this (this example collection from a member features 2 blogs and 3 different companies):

How do I list my company in the Business Directory?
When you create your company profile, you will see a pulldown menu under a section called "Business Directory." This leads you through our Business Directory categories, which are organized by Product or Service, and then different categories within those. You may change this listing at any time. When you edit your listing, it will look like this picture below. But the public will see your listing here in the Business Directory.
You are able to list your company in up to 3 categories at a time. You can do so by repeating the steps above. Once you company is listed in a category, it will be shown in a list that looks like the one above. To get listed in another category, you simply go up to the drop down menu under Business Directory Listing, and start the process again. To remove one, click the "Remove" link at the end of the listing.
The menu will look like the picture below. In the below scenario, this company called A Little Beacon Blog is listed under Products > Blog > Local Blog. To add this company to another category, the member would start where the red arrow is pointing:
How do I add my Event to the calendar?
Look for a shortcut link from the right side of the website: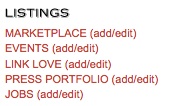 Click on the link called "EVENTS (add/edit)" Or, click on your Member Account Center and scroll down to your Event tools. When adding your sale, pick which Event category it's to show up in. In this case, select Black Friday.
How do I listen to my podcasts?
Once you have successfully purchased your podcast, the file will live here in your account at this website, but you'll also need to download it to your computer. To do that, follow this directions:
Click on the link called "YOUR PODCASTS" in the list of links in the EDUCATION CENTER on the right-hand side of your screen. Any file that came with your podcast is located here (ex: special notes or a Power Point presentation that accompanies the podcast).
The podcast file ends in .mp3. Click on it, and it will go to your iTunes or preferred music application on your computer.
The podcast will put itself into an Album called Tin Shingle in your Music library.
All of your downloaded podcasts will be in your iTunes forever.
Hint: Once you download it from this website, it may start playing on your computer.
How to I watch my webinars and recorded classes?
You can watch the webinar right here in this website. On the right side of each page, you will see a section called EDUCATION CENTER, and a link called "YOUR RECORDED CLASSES". Your class and any documents that came with it will be stored there. The section looks like this:
---
CLASSES
How do I watch my recorded video classes?
From the right side column, under the EDUCATION CENTER section, click on "Your Recorded Classes". Your videos will be there, along with any notes, templates or handouts that were created for the video. You will watch the video from within this website. It does not download to your computer. The links from which to access this section look like this:
If I paid for a live class, and it was recorded as a video, how to I access that video?
You will need a special coupon code to get the video. Email info@tinshingle.com to get the coupon. We do sell the recorded video classes separately, so in order to get yours, you will need to go to the Video section, click to "Buy" it, and then enter the special coupon code at checkout. This will enable you to purchase it without being charged. If any notes or other handouts were available during the class, those notes will be available as downloads from the area where you watch the video. To watch the class, you will click on the link "YOUR RECORDED CLASSES" that look like this:
Where can I find PR Leads?
From the right side column, under the PR CENTER section, click on the link called "PR Lead". All PR Leads live there. You will also be emailed with PR Leads on a weekly basis.
I am a member of the media and I'm trying to upload a PR Lead. Where do I do this?
From the right side column, under the PR CENTER section, click on the link called "Post a PR Lead". Please use this for PR Leads only, and no other sources of information or announcements. Those will be deleted. You may enter leads that have deadlines, and those that are ongoing. Leads with deadlines will automatically disappear, and leads that are ongoing (have no deadline) will remain active until you need them deleted. If you are a member of the media and are interested in a media membership, please email us at info@tinshingle.com to learn about your options. The link will look like this:
---
---
New in

Business & Professional Development
Motivation, education, and strategization of how to get the word out about your business. And words of encouragement because what you're building is big!